top: kristen davis, belk / jeans: aeropostle /
so awkward moment of the week...
while my sister and i were headed to the post office the other day,
a man threw a toilet at us and succeeded.
while writing this post, i asked my sister
hey, my brain is dead. remind me of some awkward moments of the week
and this (not the toilet) was what she threw at me.
she's such a little joker, isn't she?
(so no, the above statement did not happen.)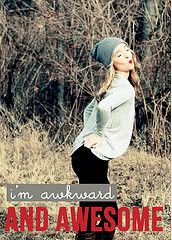 but the week hasn't been too eventful so i don't have too many
to write up about for awkward/awesome thursday, unless you count...
1. pricking your finger with a needle while sewing through snow white felt
(yes, the red is blood, not a fun polka-dot print)
2. your allergies are so bad that your raw nose matches the shade of your bright red tights
3. when you sit in the middle section of church (where lots of people sit behind you) and you stand up to sing, but then you feel your velvet dress is shorter than normal. oh, right. velvet likes to stick to cotton leggings...and was that a draft that i felt?
(i guess it's okay if you count leggings as pants...right? right?! make me feel better here!)
however the week hasn't been so uneventful that
don't make the list like...
1. shipping out 72 muchloveilly products out to the post office yesterday!
2. hearing that Ryan's best friend (also named Ryan!) got engaged to an amazing girl!
3. peanut butter oreos, mcdonalds $1 strawberry banana smoothies and homemade popcorn
(tummy is rumbling, taste buds salivating as i type those delish words)!
and last but not least, the winner of the Alely's suh-weet giveaway!
and i think that this announcement is 2 days overdue.
but sure enough we have a winner to alely's incredible giveaway!!
shea, be sure to shoot me an email at muchloveilly[at]gmail[dot]
so that you can get your hands on a OhSweetLeeme product!
if i were you, it'd be a tough choice!
alely, thank you for such an awesome giveaway!
shea, congrats!
[

happy thursday, friend.

]
p.s. speaking of giveaways, did you see rhianne's dreamy giveaway?!