dress, stretch tee, leggings: f21 / boots: rampage
can i tell you a secret?! come in just a little closer. a little bit more. okay, perfect. you seriously have been incredible to me this week. your comments have made my day - and thank you for making my blogiversary an uber-special one! so thank you, thank you!
so any-whooooos....many of you commented that one of your favorite MIL posts was the awkward/awesome post i wrote up a few weeks ago, so keep with the party, here's another one coming right backatcha.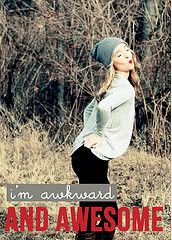 1. while you're shopping you're sister holds up a dress and you scrunched your nose and say really loudly, "EW, THAT IS SO UGLY!" right as another customer walks up beside you carrying around the same dress to obviously buy or try on herself.
2. when you recognize someone from a local commercial and you say hey, you're that guy from that commercial? and he just stares at you then oddly looks around the room ...then says, yeah, we do that. okaaaaay. how does one even respond to that?

(wish i could claim that this happened to me, but it didn't. i was with ryan at this local jewelry store getting my mom's watched fixed while ryan had this situation happened to him with this guy.)
3. walking down a long empty hallway and you see someone walking towards your direction from the other end. but you don't really know that person and he doesn't know you. but then you can't do anything else but look ahead at either the ceiling ,the floor or the other person. what makes it worse is when you finally are shoulder to shoulder with the other person, you say hi but then are ignored.
4. seeing a man forcing his dog's nose into another dog's butt. dude, the dog's do that on their own. if your dog is anti-social, you can't just force him to do that. it's a dog thing. we're not a part of it.
5. telling someone that you hate wal-mart (i really don't hate it-but they drove me nutty that day) and make it an emphatic statement. later on you tell that same person, you love her cute hat. you ask her, where did you get it? and she says, oh. walmart.
1. my mom. she is one of the most generous, hard-working people that i know. i stopped to think about how much i loved her this week - and i do. a whole stinkin' lot.
2. New music like Adele's 21 and new books likes I am Number Four, Beautiful Creatures, and Iron King
3. getting to hang out with (my) Ryan every single day the past week - and those Sonic-runs (strawberry limeade with extra strawberries, pls.)!!
4. hitting 800 followers this week and blowing my mind with the number of comments for

the blogiversary giveaway

post

(be sure to enter if you haven't yet - you won't regret it. i promise!).
5. random Wal-green runs and walking out with sour patch kids and sweettarts (or any kind of sour candy)
any awkward moments for you lately, friend?
and guess what?!
yesterday was a little crazy so i wasn't able to post the winner of the Somerknit's giveaway, so here ya go!!
shoot me an email at muchloveilly[at]gmail[dot]com with your mailing address
so that sweet Somer can get her amazing bow cowl in your hands right away!
oh! and for those of you talented knitters out there,
Somer has offered the pattern for her Illy cowl right HERE on her blog!
[

happy thursday, friend.

]