...to be honest, i'm a little brain dead.
the week started off with my odd sleep cycle. stayed up late, yet woke up WIDE awake the next morning. as the week went by, it continued to be productive with shop/blog stuff, running errands, hanging out with family, shopping for christmas gifts, and helping mom out with the yard (haven't done yard work in ages - we don't have yards in chicago - or at least not downtown). then by Wednesday, i felt the dreaded slope. loss of energy. lack of motivation. gah, i'm blaming it all on the weather. (if you follow my twitter, you might have received the tweets in connection to my stream of consciousness.)
so even while i'm sitting her typing, i feel honestly a little, kinda...brain-dead. but i think that it's okay. the weekend is here and i think we are given permission to give into loss of brain activity, wouldn't you agree? i also think that you might agree with me. it is the end of the year afterall. it's pretty normal to be tired at the end of a long year, right?
engagement ring: my bff and the love of my life (yeah, baby!)
and alas the weekend is upon us yet again! i'm looking forward to some holiday happenings taking place this weekend (and for a brain-recharge).
hot chocolate. night on the town. carolers. outdoor

Christmas

decor. making/writing

Christmas

cards. family. movies (ahem, eclipse at midnight...you know i'm not talking about no-moon).
more

Christmas

shopping.

and have i ever mentioned to you my all-time favorite way of drinking my hot chocolate? i always have it with hot milk (never boiled or microwave water - gah, me) with a lot of whip cream and sprinkles on top. i have to have the sprinkles on top. i don't think it's high-maintenance. i just think it's more fun that way. and it makes the whole mug taste better. i don't know why, but i've always loved sprinkles. and yup, lately i've been making myself a cup of it every day around 2 or 3 when i'm in the middle of filling orders. there is something very comforting about it.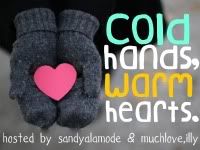 welp, hope you have an incredible weekend, friend. not sure if i'll make it back on here this weekend,
i'll see you monday when i'll have a lovely sponsor lined up for a sponsor love post and a giveaway!
and on tuesday,
december 7th we'll have the link-up for the Cold Hands, Warm Hearts Swap!
i'm so excited to share with you on what i received from my partner in crime - and i'm so excited to see what you all received and exchanged from your partners!
we got a darn good start of the week lined up, don't we now? i'm excited. you should be too. *wink*
what are your weekend plans, friend?
oh, and how do you like to drink hot chocolate?
amd i the only weird one with the sprinkles-addiction?
(i'm willing to accept the fact that i might be.)
[

happy friday and weekend, friend.

]
p.s. don't forget about shawni's sweet, generous giveaway?
also did you notice my new blog buttons? do you likey? grab one, pls!